"Speed through strength." This sums up my experience running the 2023 edition of the New Balance 5th Ave Mile while in marathon training mode.
For the previous 11 weeks, I've been working a lot on my endurance and my lactate threshold. As I transition to my final eight weeks of more specific marathon training, this race fit perfectly into my schedule for two reasons:
1.) It changed up some of the monotony in running all the longer, more strength oriented workouts.

2.) It also presented an unknown challenge to myself: just how fast could I run one mile off really no specific mile type training?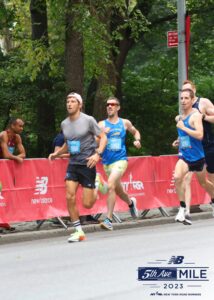 19 weeks is a lot of time to train for a marathon. On one hand, it's nice to not feel forced to rush into it, but it's also easy to lose the motivation to tie your shoes for yet another 18 to 20 mile run.
Scheduling shorter distance races along the way makes the process more enjoyable. It also serves as motivation to run better for the next race. Though a mile race is vastly different from running a marathon, I'm motivated more than ever to meet my marathon goal.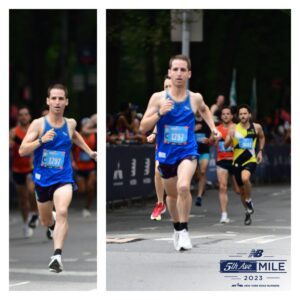 Going into the race, I set a goal to beat my time and PR from last year (4:46). I knew what times I needed to hit at each quarter-mile mark on the course. My unknown was the ability to run :69 to :70 quarters.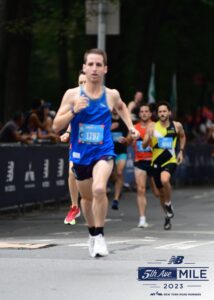 As I passed each quarter-mile, I felt much stronger than last year both physically and mentally. I also felt lighter from not only the aerobic work that the marathon demands from you, but also from cleaning up my diet. Mentally, I've been here many times with nine years of racing under my belt. Just run strong and finish.
As I approached 100 meters to go, I knew it would be close. I saw the clock say 4:45, but I crossed exactly at 4:46; tying my time and PR from last year.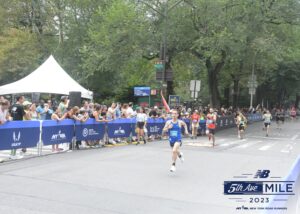 Although I would have loved to run a new personal record, I'm happy that I haven't lost any of my speed. Truth be told, I'm a much better runner now as a 36-year-old than when I started as a 27-year-old.
As my priorities have shifted, I've had to accept the responsibility to change the way I work, so that I take care of my obligations. Not only in order to find success in what I do, but to also help others succeed. As I prepare to line up to the start line in eight weeks, I hope to motivate others to reach their best potential.