When I began my running journey five years ago, my research towards self-improvement dealt with the physiology of the body. It took me until 2019 to focus on biomechanics; you know, how you move when you run. After a hard marathon in Kansas City last year, I said, "None of this marathon stuff next year, but I will study how to improve my speed at shorter distances." At the time my left foot thanked me, since I either pulled a muscle or had a minor stress fracture in one of my metatarsals. Putting weight on it hurt at the time, but despite this pain my body felt fine after running hill after hill for three hours and ten minutes. Then and now, I know I have a lot of potential with this sport.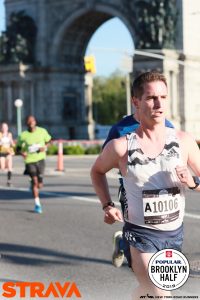 Simply put, my goal for this year was to learn how to run fast without running hard. I intended to set personal bests for each of my races, but what I discovered through this nine month, on going, process was how to run more efficiently. The pieces of the puzzle were put together one-by-one throughout this year by not only self-discovery, but by reading literature on this subject.
I needed more information other than people telling me to just run more. I also didn't subscribe to the idea that weight training would cause me to bulk up and slow down. Once, I had a person tell me not to get too big; that one extra pound adds one minute to your 10k time. One pound of muscle? Because a pound of fat definitely won't help out, either. I decided that with this information rich, but wisdom poor world in which we live, I needed to read published books by authors who have authority on the subject of running and biomechanics.
Solely running a lot of mileage can entice a lot of runners who are looking to improve their engine and efficiency. However, just because you move in life doesn't mean that you progress. Unless you had a great coach early on, most never learn how to run with ease. We learn the proper way to lift weights, shoot layups and the like, but when it comes to running most of us figure it out as we go. A few might even undergo a gait analysis at a running store to find the proper fitting shoe, but that has little to do with running efficiently. There is more at play here. People do run in their own unique way, however principles do exist to achieve efficient movement.
Fortunately, I learned some of these principles a few years into my running from other accomplished runners. The difference now is that I have a greater awareness and understanding of what works best for myself. Moving forward, I learned a lot about other metrics besides the physiological ones, such as VO2Max and lactate threshold. I began to unpack other variables such as vertical oscillation (the bounce up and down), ground contact time, symmetry and leg spring stiffness. I would monitor these running dynamics with my Garmin watch, but not all the time. This allowed me to assess my progress in workouts as well as in races without paralysis by analysis. As my knowledge expanded, my understanding grew on how these metrics related to the cost of running (running economy). It took me until the end of July, though, to begin a longer focus on tweaking how I moved.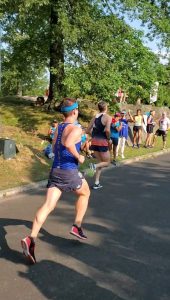 Midway through this year race times were consistent, but not as fast as what I'm capable of running. When I sustained my minor foot injury late in 2018, I developed some slight braking and asymmetry in my form that I wanted to rectify. Some of these issues were present when I first started racing competitively, even though I ran quickly. Alas, some of the ways I moved hindered my potential. Running two minutes slower than my personal best for a five mile race in Central Park motivated me to start addressing these issues.
The timing to address my running form worked out well. A year with no focus on marathoning allowed my mind to process what held me back previously. Moving forward, I drastically decreased my mileage so that my body could adapt to the tweaks in my form. I supplemented the elliptical and indoor bike to maintain my aerobic fitness. Weight lifting and hip flexor work stayed in my program, too. I have been injury free all year. Further, I developed a checklist to avoid reverting back to old habits. I will, however, focus only on one aspect at a time to not complicate the process. On another note, the form drills I received while in Kenya make much more sense now.
Focusing on improving form while having races scheduled makes for an interesting challenge. I saw these races through a different lens than most of my peers, though. While other runners were focused on time, I focused on movement. Though I occasionally reverted back to old methods to keep pace, I did so intentionally. I have come to the understanding that this process is on going and form can break when your body is under a high amount of stress. Instead of reflecting about the finish time, I reflected on my running dynamics. I now have a deeper understanding of why Eliud Kipchoge puts emphasis on developing a strong mind.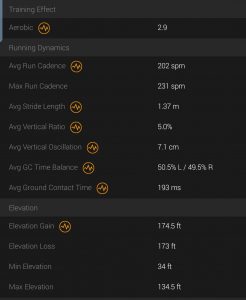 Running dynamics during a race. I am still striving for improvement.
Focus on movement and the pace will come.
I questioned this process at times, but I knew that I had to see it through. It felt like I took two steps back at first, but after a month I began to feel progress. At this year's 5th Ave Mile, I ran a comfortably hard 5:01. Not a personal best or 100% of my abilities, but my throat didn't burn after crossing the finish line, either. Not to worry! A time will come to really push, most likely sooner than later. I know slow races might occur before the fast ones, and that is ok. Truth be told, I took this initiative to study and apply proper biomechanics to my running on my own accord. Nobody told me that I needed this change. I simply felt a push to learn more about the science of moving. Already, I feel more efficient. I only need more time.
To me, running is an art form just like music. Watching the smooth stride of runners like Wilson Kipsang, Eliud Kipchoge and Kenenisa Bekele drew me into this sport. Of course you don't have to do all of this to run. This was a personal goal of mine from the beginning. It just took five years to discover and understand the concept. Most importantly, I'm now aware of the subtleties in my running form. This gives me the confidence to perform well. Though a work in progress, I'm excited to progressively build my training into my 2020 racing season.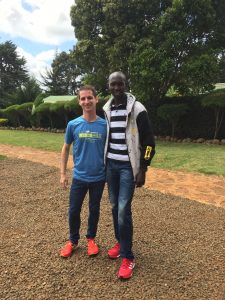 With Wilson Kipsang in Iten, Kenya – 2016.
My running related videos: