I'm not sure why I always do well racing when I have a scheduled commitment later in the day. Sometimes in the days leading up towards a race, I have a really good feeling about them. This season opener was no exception. My training had been consistent, even though my mileage base had been pretty low compared to the previous two years. I completed solid workouts, albeit not totally amazing, and I had been recovering well by eating the right food and sleeping enough hours. The last time I had raced was in October, so I was excited to test the waters to see my fitness level.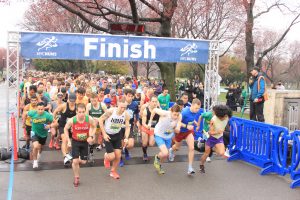 My pre-morning routine went perfectly. I chewed on a coffee bean for caffeine. I do this instead of drinking coffee to avoid unexpected pit stops. After eating some homemade teff crepes, I went to catch my train to Flushing Meadows Corona Park. I arrived in plenty of time to do my usual three mile warmup followed by strides and dynamic warmups. My body and mind felt relaxed as I lined up to the front of the start.
This race also included a half-marathon option that would start with the 5k race. In order for me to run quickly, I had to line up at the front so my pacing wouldn't be obstructed by those running ten extra miles. I saw my wife and son right before the start. Apparently he wanted to race too, as he entered the race corral a few minutes before the start. He wasn't a happy camper when his mommy had to take him out of the starting line.
I found myself with quite a substantial lead when the gun went off. I only saw two guide bikes and spectators. I ran the first mile around 5:25-5:28 pace, which separated me from the field pretty well. Nobody went with me so I kept running with the bikes. One of the cyclists joking said not to pass the guide as he usually gets upset when runners do that. Rather than run a time trial at this point, I decided to protect my position. I kept running at a good pace, but decided it wasn't in my best interest to push really hard in the next two miles all by myself. After all, I never experienced running a race with a substantial lead. I enjoyed it, but I knew other competitors were probably trying to catch me.
As I ran the last two miles I focused on my breathing and form. I mostly told myself I could win this, so don't screw it up by being lazy or hammering too hard. I found I did well with running the tangents of the course, since my Garmin watch recorded the exact distance of the race. I noticed a runner trying to close when I hit the third mile. I decided to drop down around 4:40 mile pace to finish strong for the win. When I crossed the line I caught a word with the cyclist who spoke to me earlier. He asked if I noticed the runner trying to catch me. About nine seconds back, the top woman ending up breaking the tape. The cyclist told me that this race was one of the more enjoyable ones he had watched.
Overall, I just had fun with this race. I could change gears if needed, but ran rather conservatively for this race. Most importantly, I felt solid with my rhythm. This race also let me know what I'm capable of when I run the UAE 10k later this month in Central Park. I still have a lot of development work to do, but I am excited to see how my fitness will progress throughout the year.