Parenting and running offers unique challenges, but with a little planning and the correct mindset, you can still train at a high level and run well. Before my son turned one, I managed to train between 70 to 85 miles per week in preparations for a late Spring marathon. I would run 10 miles anywhere from 59 minutes to just over an hour, complete long runs up to 35k and follow my training program as prescribed. As my 21-month old son grows up, this is how I continue to manage my responsibilities as a parent while working on my craft.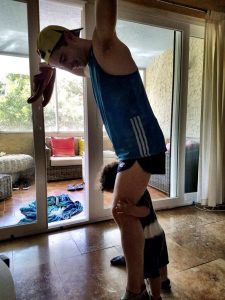 1.) Prioritize
Prepare everything you need the day before training. You don't want to rush through the process before you go out. This will waste energy and you won't feel as fresh starting a run. It's especially important to prepare ahead if you take your child with you. What else do you prioritize? Make proper nutrition a priority by taking the time to cook ahead or hire someone to do meal prep for you. Bad eating habits will lead to subpar training and performances. For the run, prepare your clothes and any hydration or gels that you will need. Overall, organize your events in a way that allows you time to run.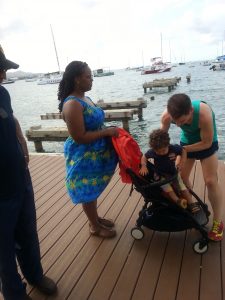 2.) Invest in a well-crafted running stroller
In case you don't have a babysitter or your daycare is closed, a running stroller is a wonderful investment. I have had excellent experiences with the Thule Urban Glide. It's on the bigger size compared to most strollers, but I can run fast and everywhere. The tires and suspension allows for a smooth ride on the road or on dirt trails. In the summer, I drape a cover over the seat and hook up a small fan inside to keep my son cool. Most times he falls asleep, so it must feel pretty comfortable to toddlers. Keep both hands on the handle as it will offer a great workout to keep your core and back muscles stable. Also, ask a friend to tag along to keep you company.
3.) Gyms with childcare
I never thought about this until a friend mentioned this the other day, but if you don't want to push a stroller around look into gyms that offer childcare. For those who have any experience with this, please let me know your thoughts!
4.) Work it out at home
I might not be able to run in my apartment (no treadmill), but I can work on skills that are sometimes overlooked by distance runners. If I'm stuck inside while my wife works a 24 hour call at the hospital, I have exercises I can pull from that help my running form. They consist of running drills, exercises to improve the stability of my core muscles, yoga sequences for better mobility and ways to keep my gluteals open and knee drive high. Is your babysitter running late before you head off to a race? You can also warmup in your home with form drills and active stretching.
5.) Don't take on too much
Unfortunately, I found this out the hard way as I trained for my marathon. On a day that I didn't even run a mile, I took on too much with music. Playing music in NYC is no easy task, and unfortunately I misaligned my SI joint by carrying too much gear while navigating the transit system with my son. The effort on that day wasn't even worth the experience I had with the music that I played. So, if you feel tired, rest. Also, don't feel afraid to ask for help if you need it.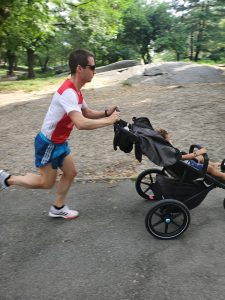 6.) Develop the mental edge on race day
I'm still working on this, but we can use the skills we learn as parents to help us with our races. Think about all the obstacles you have to overcome with parenting, then think about those who aren't parents yet. For those who fly, remember how easy it was boarding a plane without kids? Parenting has taught me that the problems many people complain about aren't actually as bad as they might seem. So, when you get to the start line, relax and execute. Try to prioritize and plan running your race for that well-deserved personal best or win.