Sorry for the absence of blogging this year. As we approach the end of 2020, I want to give a reflection and an update on my running goals.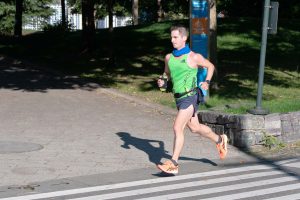 Last year I made an effort to study more of the mechanical side of running and how I could improve running as a skill. I spent five months breaking down the running cycle to make it more intuitive when I train. I also looked at what I could do to develop smarter running muscles. My 2019 dealt with acquiring information. My 2020 dealt with refining this information with what worked best for my own running. Safe to say, I found a lot out about my running during these two years.
The biggest advantage? My ability to spot issues that can limit my performance or cause an injury. In life, we should all know our own strengths and weaknesses. I'm not a physical therapist, but I know my own weaknesses. I believe this will really help me as I challenge myself over the next few years to really develop my aerobic volume. I'm not sure how all of it will work out, but I think something really special can come together if I'm consistent and plan ahead.
Moving forward, I am working on increasing my mileage while focusing on the power that comes from the glute muscles. I discovered that I'm more quad dominant and glute light. Fortunately, my glutes have been turned on since and as a result, I'm gaining more power in my stride. I am also making sure that my pelvis remains level and that I'm breathing through my diaphragm. As I continue to develop my fitness, I'm mostly working on transferring more force to the ground to increase my stride length. Along with this, I'm developing the aerobic capacity to handle fast running for longer periods of time.
At the end of the day, running is a simple sport. It's an intuitive endeavor, much like playing music. I'm now at a point where my running feels just as intuitive as my touch when fretting a note on the guitar.
Photos by Nick Pitsirikos