Kenya: the place where you can vacation and come back looking young and fit. Prior to leaving New York, I took an extended break from running after completing my sixth marathon. The primary cause: pulling a muscle in my left foot during the last 385 yards of the event. I did however need time to return with a fresh mind as well. 2018 started out very well in terms of training, but after developing a misaligned SI joint in April, I struggled to build back a strong base of training. The day after the marathon, I decided to give myself a break from marathoning in order to concentrate fully on shorter distances. It seemed like a good idea at the time, especially since I could barely walk on my left foot. But, would I regret skipping a year of marathoning?
Lornah Kiplagat's track with friend and pacer Bekele
Time off taught me the valuable lesson of switching off between running and other tasks. Kenyan marathoner and former world record holder, Wilson Kipsang, exemplifies this trait. Wilson is a family man, athlete and business owner with a name that people will pay good money to work with. I briefly met him in 2016, but I didn't have a chance to listen to him talk about running at a high level while managing life. This time around though, I attended a talk at his Keellu resort a few paces down the road from Lornah Kiplagat's High Altitude Training Centre.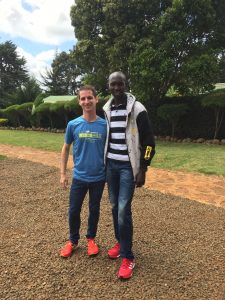 With 2:03:13 marathoner Wilson Kipsang
Many questions were centered around running specifics (paces for easy runs, etc.), but what peaked my interest is how he manages life. I, a musician and runner, occasionally dive into an endeavor where it can be challenging to turn the switch off. Only recently have I done this well (mainly due to chasing around an inquisitive and daring 15 month old). When Wilson spoke of switching off from managing his business to running, he highlighted why the Kenyans do so well in athletics compared to their Western counterparts. Alas, the nation that dominates running doesn't obsess about running every hour of the day. A bad race result? No problem. Time is not wasted dwelling on a previous race. No egos, too. After all, a 2:08 marathon is slow in Kenya. No need to boast.
Moiben Road right outside of Iten
Further, while many exercise scientists lead with genetics to discuss Kenyan dominance in running, I've come to the conclusion that it's about training in the environment more than anything else. In the high altitude running hub of Iten, most roads are hilly and uneven. Tarmac roads can be found, but athletes mostly run on red dirt paths. Also, add the depth and talent of the athletes and the fact the main industry is running. Pay a visit to coach Timo Limo's overflowing and challenging weekly core stability class and you will find recreational runners mixing it up with world champions and record holders. Also, go out running and experience champions and unknown runners passing you on their easy runs.
Smiles before coach Timo's core class
Although hard at first, I'm glad I started running again in the Home of Champions. I feel the benefits of taking a break for a little over a month. My body has healed and I feel that my mobility is back. Honestly, I feel relieved that I don't have to worry about a marathon in 2019. I can focus solely on perfecting my running technique while pursuing my goals for the 5k, 10k and half marathon. Mentally, I'm stronger this time around returning to New York. Sea level? Paved and somewhat even roads? After chasing around a 15 month old for nearly a month in the rift valley I can say: New York, no problem.