Summer is officially here. Hot temperatures, the sweltering sun as well as the high humidity can make running a much harder task. My solution is not to work hard, but to work smart. I've listed four items below that will help make running in the heat an easier task.
1.) Body glide
I use the body glide stick before heading out in the heat to prevent chafing. It works extremely well from shorter, intense workouts to running full 26.2 marathons. If you chafe after your workout, using this stick is the solution.
2.) Sunscreen
Although this is elementary, sometimes it's forgotten. Protecting your skin is essential, especially if you're logging in a lot of miles. Along with body glide, I make sure I put on enough sunscreen before I head out the door. A simple step like this will help prevent burns and well as potential health issues down the road.
3.) Sweatbands in the heat
When I started running in the heat, sweat would drip into my eyes that in turn would cause them to burn. When I'd wipe the sweat away from my shirt, my eyes would become more irritated. I would lose a bit of my form, energy and concentration during my longer runs. Fortunately, I found a solution by wearing a sweatband. I wear one when I run in the sun on a hot day. This helps trap the sweat from running down the front of your face. Sure, you might look like you're bringing back 80's fashion but hey, everyone is going back vintage, right?
4.) Hydration belts
It's important to stay hydrated with water or sport drinks when running. I like using the Nathan hydration belts. The water bottles are easy to grab and the pouch is useful for carrying your valuables such as keys and identification. Make sure the water bottles fit the holsters since smaller bottles tend to fall out of the belt. I recommend the 10 oz bottles. I also recommend using the non push-pull caps instead since they will allow quicker access to your drink. I always place the bottles in front, not in the back.
These four items will be of great help with your training runs. Although some might see pain as a badge of merit, my goal is to minimize soreness as much as possible to feel great for the next workout.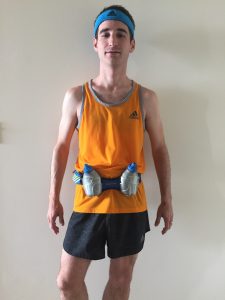 Recommended Reading:
Running for Beginners Part I: Tips for Musicians
Running for Beginners Part II: Tips for Musicians
Running Helps with Playing Music