I learned about the Enda Iten shortly after I visited Iten, Kenya in December 2016. After having such a great experience with The Kenya Experience, I wanted to find out what made a great shoe in the minds of Kenyan runners. Since buying a pair would support Enda's initiative to create jobs in Kenya, I knew I had nothing to lose. The shoes couldn't have come at a better time since I've been wrapping up speedwork sessions before entering my training for the 2017 NYC Marathon.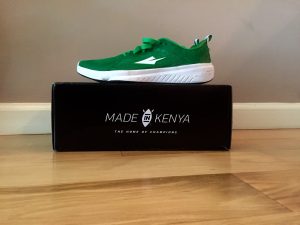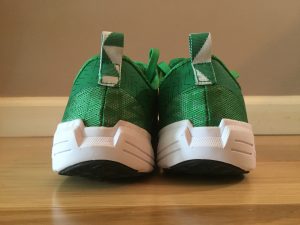 I took them out for a recovery run following an interval session and instantly noticed how it conformed to my foot. The wider toe box gave my toes room to breathe, but I immediately noticed the cushioning. New York City has a great running culture, but it also has quite a bit of pavement. This can make training very hard on your joints. Being a lightweight and efficient runner, I like using a trainer that won't weigh me down, yet will provide me enough cushion for my training. The heel contains a little bit of stability, but not too much to weigh the shoe down. The Enda Iten fits the bill in what I look for in a trainer:
Light-weight (7.9 oz / 224 gms)
4 mm heel to toe drop
Good, snug fit and comfortable
The 4 mm drop promotes more of a fore foot and mid foot landing, which is great for distance running. The weight of the shoe allows me to still bounce high off the ground without having to fight any extra weight. This is especially helpful for holding faster paces during long tempo runs because I can maintain my pace while having that extra protection from the insole. The Enda Iten shoes felt great on my recovery, but I wanted to see how they would stack up during a workout day.
The following day I had a workout for an upcoming 5k: 10:00 fast (around 5:18 per mile pace (3:18 per km)). While running I did not feel the shoes. This is a sign of a good product because it allowed me to focus solely on running. With every stride I took I could focus on completing the workout without worrying about my legs. I also found they have enough support during my long runs. Though it has only been a week, I feel confident that these shoes will be a part of my shoe rotation for training.
I found the Enda Iten running shoes very efficient, comfortable and stylish. I would feel comfortable wearing them in races up to the half marathon and possibly the marathon. The price point of $100 is doable, especially since the company is in its infancy. I would recommend these shoes for all runners, but especially those who run efficiently and don't need so much stability. The shoes might contain slight cosmetic flaws to some, but for me the performance of the shoe outweighs the aesthetics. I'm interested to see how they improve their first model throughout the coming years. I'm happy to have purchased the first model shoe and I wish Enda the best in their journey. You can purchase the shoe here.
For disclosure: This review is solely the opinion of my own. I have not received any payments or free shipments from Enda Sportswear. I'm writing this because of my interest in running and Kenyan culture.