In guitar pedagogy, another method for teaching chords lies within the CAGED system. Essentially, this system helps organize chords. From this one could also organize arpeggios and scales as well. With five key open position chord shapes (C, A, G, E, D, hence CAGED), it allows a guitarist to play common chords up and down the neck.
For instance, take this C major chord shown below:
Ex. 1: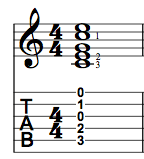 Now to incorporate this into the CAGED system, we would change the fingering, as shown in Ex. 2:
Ex. 2:

The 3rd finger is replaced by the 4th finger, the 2nd finger is replaced by the 3rd finger and the 1st finger is replaced by the 2nd finger. This leaves the 1st finger available to barre the G and higher-pitched E string. In Ex. 3, this shape moves up two frets while the first finger barres the G and higher-pitched E string, thus forming a D chord:
Ex. 3: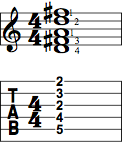 Though beyond the scope of this post, the idea would be to take the other chord shapes and move it around to form other chords. All total, there are 60 chords to be found (five chords and twelve keys; 5 x 12 = 60).
My criticism of the easiness the CAGED system offers hinders long-term harmonic and analytical development. At face value, the CAGED system is not as effective in the long-term when learning about harmony. The main issue I see with this system is the tendency to merely memorize shapes, not sounds or note names. Just because someone can use this system to find a B chord does not mean that he or she will know that a basic B chord will comprise of the notes: B, D# and F#.
Though a longer route, guitar players should focus more on learning how to identify triads, seventh chords and hybrid chord inversions on all string groups. They should be able to play these chords closely and spread out. They should also voicelead these through progressions and other types of cycles (via 2nds, 4ths, 5ths, and the like). They also should think of creative and original ways to incorporate them into their vocabulary and know how to use voicings in multiple contexts. Though some may view the CAGED system a good way to organize and find chords (and sure, it might help out in the beginning), I recommend that guitar players concentrate more on the theory of how to construct and hear a chord up and down the fretboard. Using a piano is an invaluable tool.
Related Posts: Tablature and Traditional Music Notation